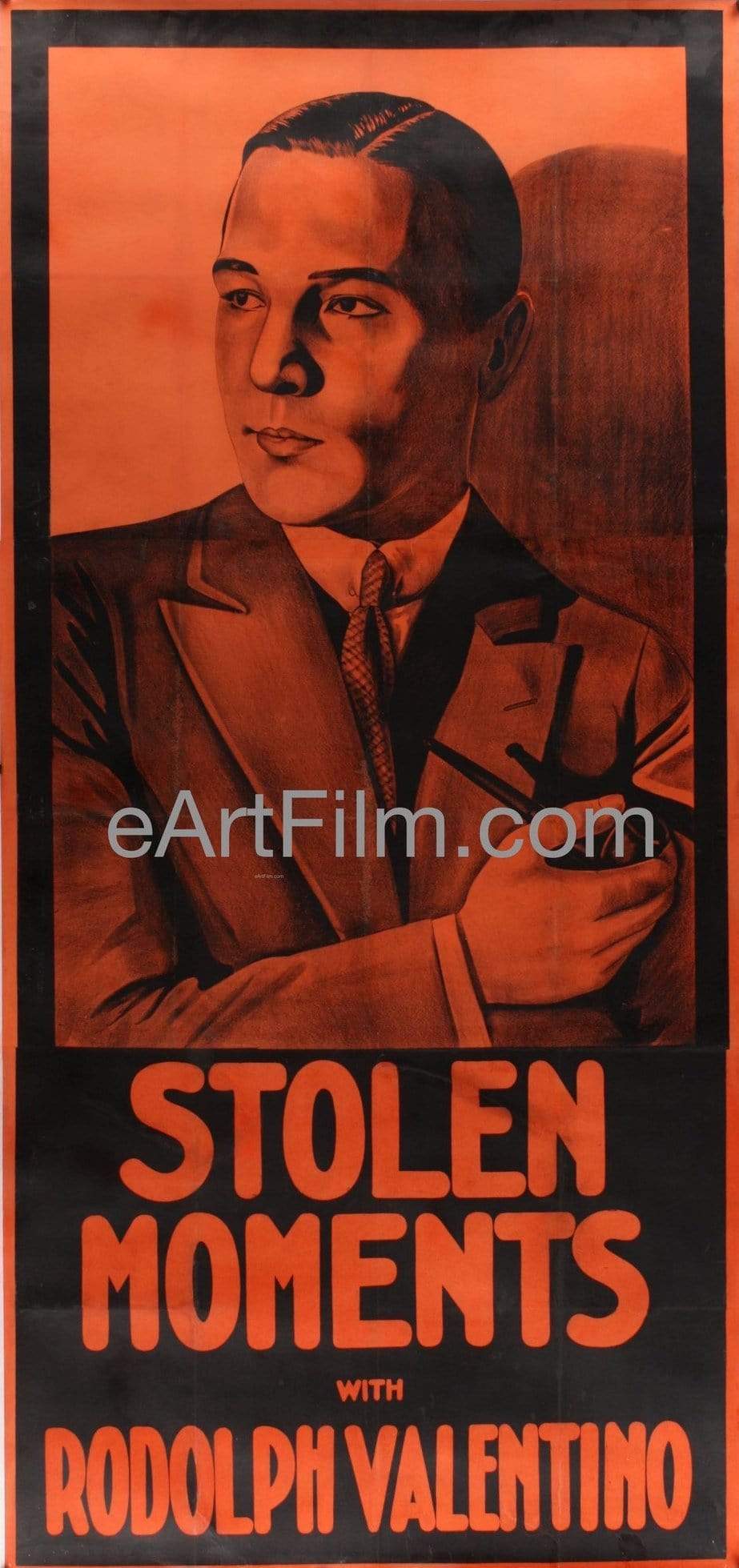 Stolen Moments Rudolph Valentino linenbacked 1920 41x85 R22
Regular price
$ 1,995.00
/
---
Stolen Moments-director James Vincent's blackmail drama starring Rudolph Valentino as the blackmailing villain, world famous opera singer, and Monet's lover, Marguerite Namara, Albert L. Barrett, Aileen Pringle, Henrietta Simpson, and Arthur Earle. Filmed in Savannah, Georgia and St. Augustine, Florida. The actual dimension of this linen backed poster is 40"x85.25". Very rare; less than a handful are known to exist. The film was originally released in December 1920. This poster is from the British re-release in 1922 to capitalize on Valentino's now worldwide fame. eArtFilm movie posters.
This hundred year old poster, from the 1922 re-release of the film in Britain, is in very good condition even prior to linebacking. It had tiny paper loss at some crossfolds and creases, tears, and tiny areas of paper loss on parts of the vertical foldlines with a lesser amount of wear on the horizontal folds. There were some scuffs scattered in the image and some tears in the bottom border, extending into a couple of the letters of Valentino's name. The poster was pretty well backed, but you can see signs of the above defects and the restoration of the above defects.
Watch a brief clip from the film below.
Orders are shipped insured via USPS Priority Mail or via UPS or DHL.  In all cases, a street address is required. Shipping rates are determined by the carrier. Tracking information is always provided.
Shipments outside the US require customs charges at delivery that must be paid by the purchaser and are not included in our price. Please allow up to three weeks for delivery, based on your preferred international carrier.
T-Shirt, Long Sleeve and Sweatshirt/Hoodie shipping rates are for one item. Additional shipping will be added for orders of more than one shirt.
Note to our international buyers: 
Customs charges are in addition to our shipping charge and are the buyer's responsibility. Do not confuse them as additional shipping charges.
Please check with your country's customs office to determine what this additional charge will be prior to making a purchase.
These charges are normally collected by the shipping company upon delivery or when you pick up the item.